85% of all UK hospital- based activity (excluding A&E) is accounted for by outpatient appointments. In 2017, Aintree University Hospital NHS Foundation Trust (AUH) observed a DNA rate of 11.39% and partnered with DrDoctor to reduce this by implementing our Scheduling solution. The overall rate is estimated to be reduced by 8.5% in the clinics where DrDoctor is turned on; it is estimated that the solution will generate a £596,000 financial benefit within the first 9 months and 86% of patients would recommend the service. This case study describes the onboarding process for DrDoctor's platform across AUH, the benefits delivered and the next steps for the partnership.
Introduction
The vast majority of patient interactions with secondary care are through outpatient clinics. In fact, 85% of all UK hospital- based activity (excluding A&E) is accounted for by outpatient appointments. One in five potential appointments in England, and one in four appointments in Wales, are cancelled or reported as DNA.
A recent OFCOM survey showed that smartphone ownership in those aged over 60 years was at 72%, and over 90% for the remainder of the population.
In order to reduce the effects of DNA rates, Aintree University Hospital NHS Trust (AUH) partnered with DrDoctor in 2018 to implement Scheduling.
Before partnering with DrDoctor, AUH's 'did not attend' (DNA rate) for all specialties across the Trust was at a high baseline of 11.39%. This was costing AUH £7.9 million per year. Clearly, there was an opportunity to reduce this significantly.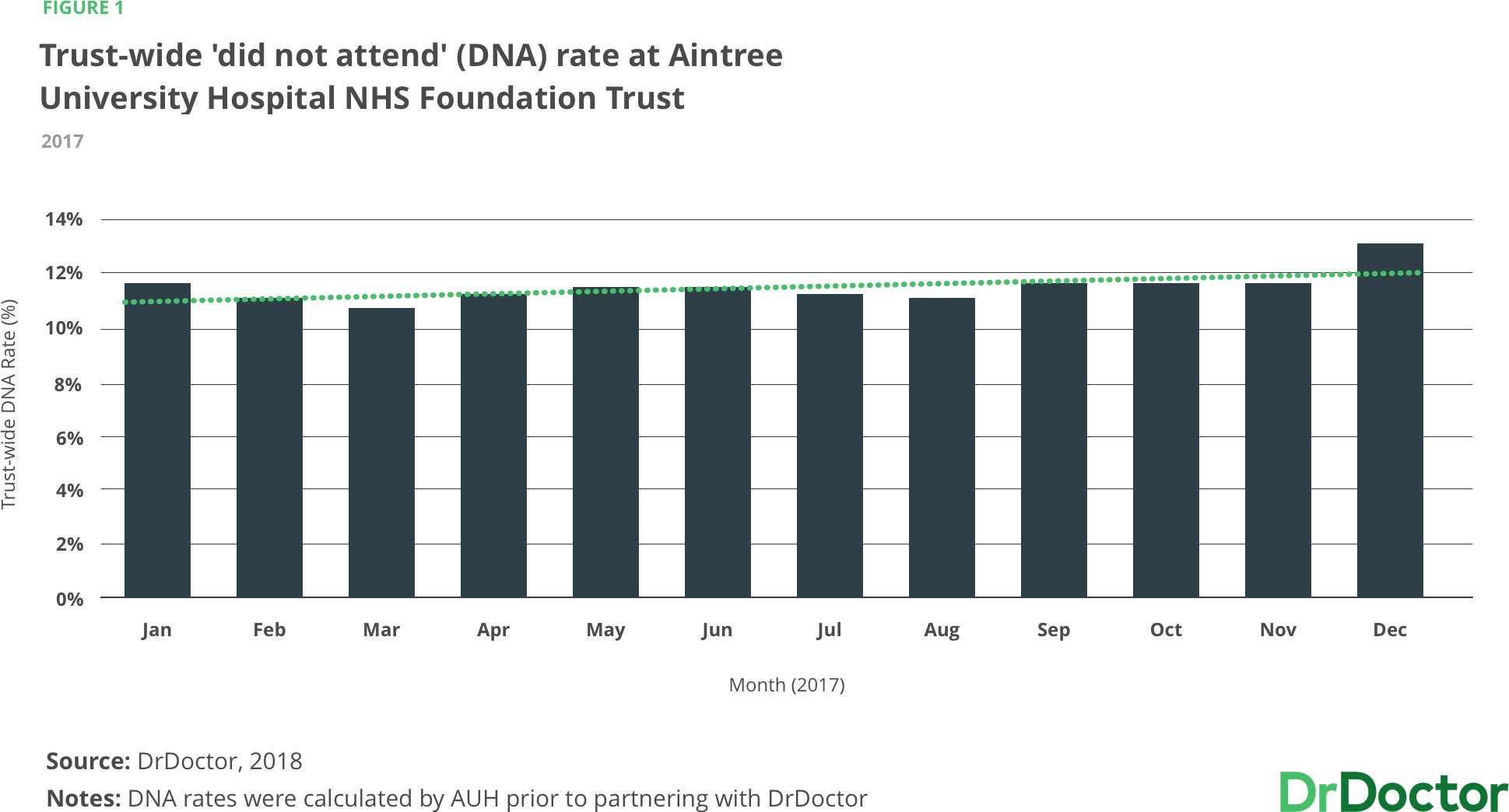 Figure 1. DNA Rates at Aintree: The current situation. Before partnering, the DNA rate for all specialities across the Trust was 11.39% throughout 2017. The financial implications of this was considerable, costing the Trust £7.9 million per year.
Solution
Appointment Management was implemented to improve efficiency and patient experience across all of AUH's Diagnostic, Therapy and Outpatient Services. Specifically, AUH needed to:
Improve admin efficiency to support outpatient clinics
Reduce DNA rates
Reduce recurrent workforce costs
Reduce the need for WLI funded clinics
In February 2018, AUH conducted a survey of their patients to identify how the Trust could improve patient experience. Feedback from patients has been outlined below:
1 in 4 (25%) patients had difficulty speaking to an appropriate member of staff when trying to rearrange their appointment
4 in 5 (82%) patients stated they wanted text reminders.
While only 2 in 5 (43%) of our patients stated they received a text reminder for their appointment, although nearly all of them, 98% who did, found it useful.
1 in 3 (28%) patients had to ask a member of staff for directions to get to their appointment.
This insight further confirmed that patients wanted a solution in place that would improve their experience when booking their appointment, providing greater clarity of what was going to happen on the day, traveling to hospital and navigating their way to the appropriate clinic.
Implementation
Through a phased Outpatient Improvement Project, AUH were committed to delivering against their Strategic Objectives of sustainable healthcare to meet people's needs, outstanding care and achieving the best patient outcomes. This project was devised to introduce the necessary changes to Outpatient Services in conjunction with the implementation of a new hospital PAS/EPR; Trakcare by Intersystems. It was agreed that implementing DrDoctor's Scheduling in tandem with Trakcare would help to quickly generate realisable financial savings during this lengthy process.
As part of the project scoping prior to implementation, a clinic mapping exercise where we identified the most impactful clinics to run the unsupervised pilot in, as shown in Figure 3 overleaf. However, after reviewing the analysis and the potential for considerable cost reduction, it was decided that rolling out in all specialties identified in Figure 3 would help to quickly maximise ROI.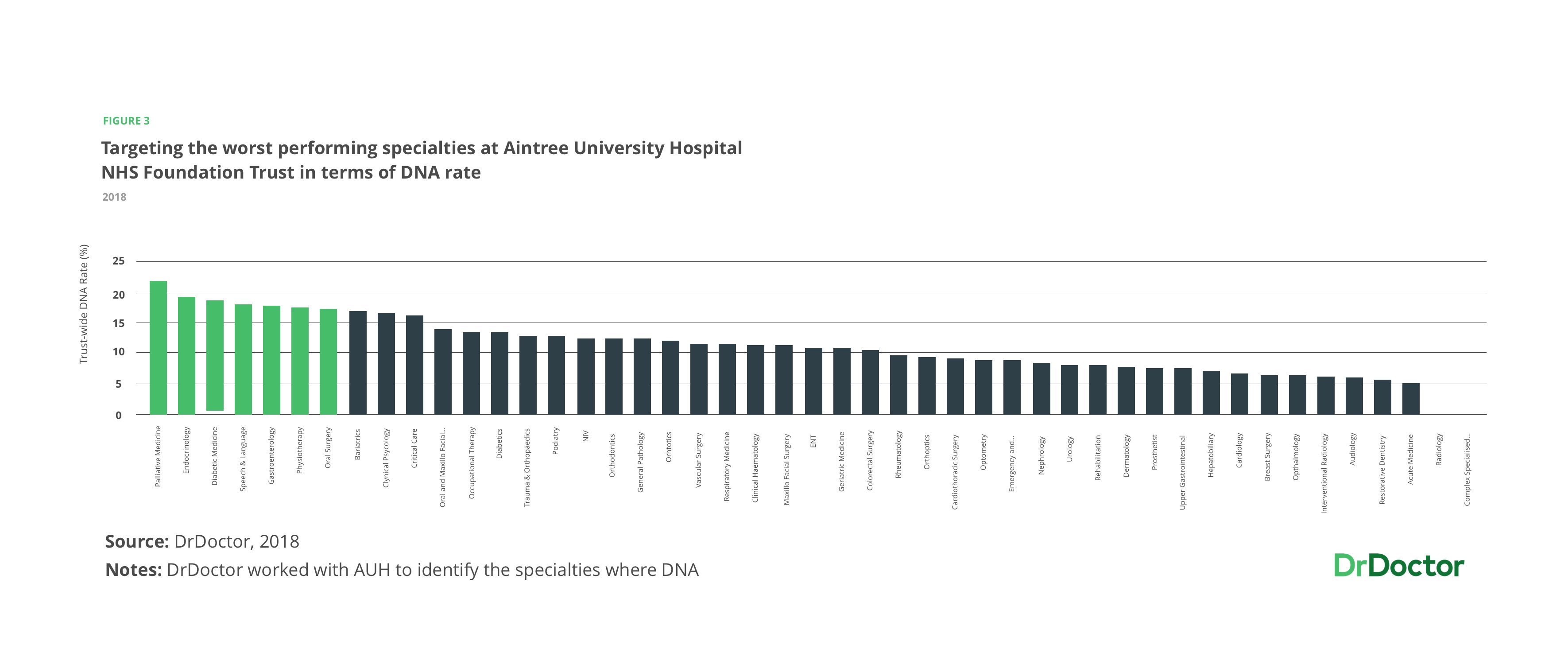 Figure 3. Targeting the worst performing specialties at AUH. Palliative Medicine, Endocrinology, Diabetic Medicine, Speech & Language, Gastroenterology, Physiotherapy and Oral Surgery were identified as having the highest DNA rate.
Delivery
AUH turned on Scheduling in 80% of the clinics identified in Figure 3 within five weeks. AUH had a dedicated implementation lead from DrDoctor on-site throughout this process - enabling the Trust to quickly start to see tangible improvements to DNA rates, clinic utilisation and patient satisfaction. Additionally, AUH decided to roll out Scheduling
for Inpatients. The average cost of a DNA for an Outpatient clinic is £120, whereas the cost for an Inpatient clinic is anywhere between £500-£8,000. This rollout helped to further contribute towards AUH's drive towards cost improvement. Figure 4 details the completed implementation of Scheduling at AUH.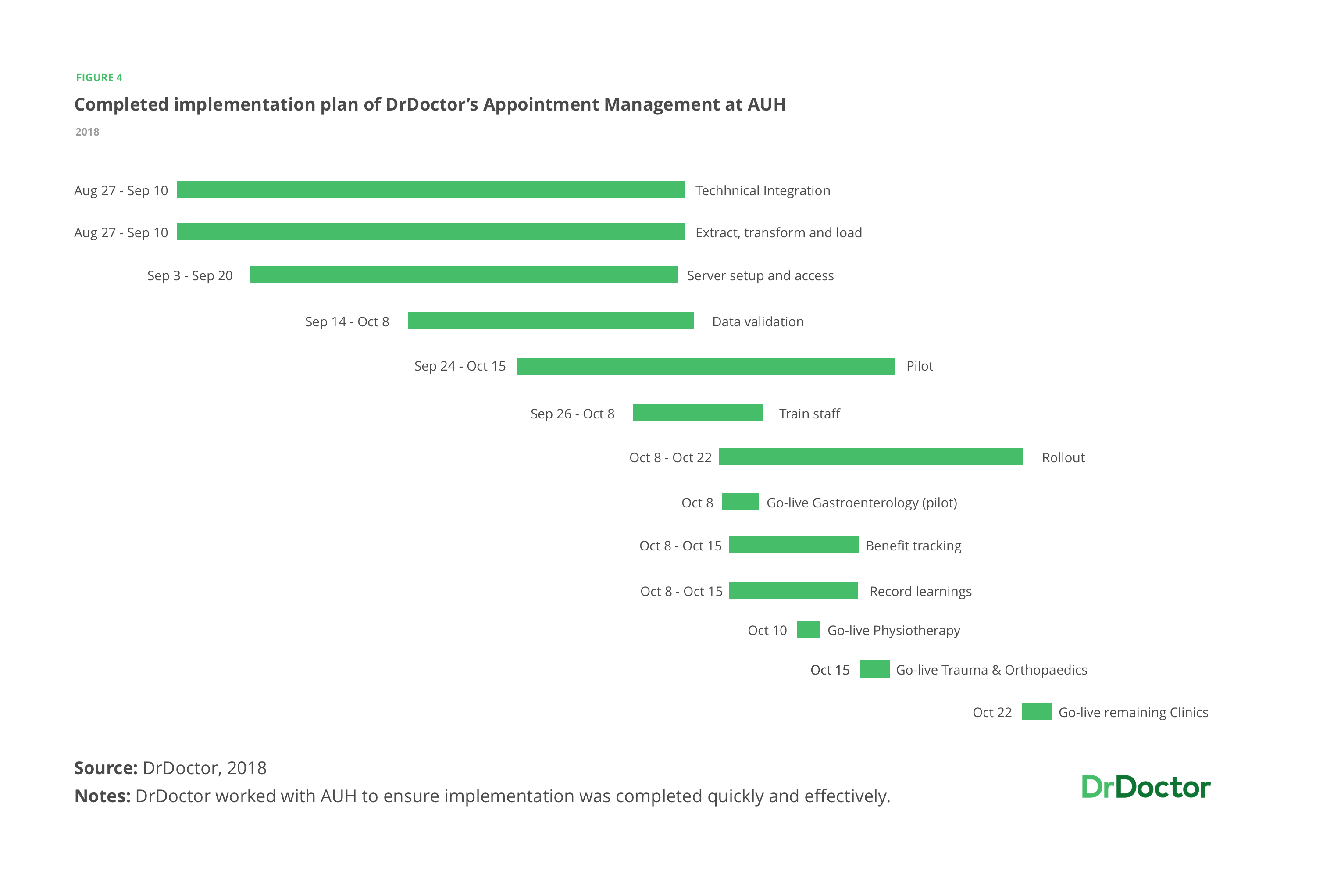 Figure 4. Completed implementation plan of DrDoctor's Scheduling at AUH. 80% of clinics identified in Figure 3 were live within five weeks, and the entire implementation process was completed within 6 weeks. Success, an ongoing workstream to maximise the benefits of Scheduling will continue to run indefinitely.
Outcome
Integration with Medway was successfully completed in the pre-project phase. AUH had a total of 697 clinic codes for customisation to go-live. By the end of the project on 22 October 2018 all required staff at Aintree were trained and onboarded to use DrDoctor, and 75% of clinic codes had the Patient Portal, confirmations, reminders and rescheduling functionality switched on.
After 9 months of the solution in place at AUH the DNA rates across the clinics where DrDoctor was switched on dropped from 12.7% to 11.6% (8.5% reduction), as shown in Figure 5.
The calculated 2018- 2019 full year equivalent financial benefit for the Trust was £596,000.
In response to a friends and family test about the service, 86% of patients would recommend or highly recommend the service.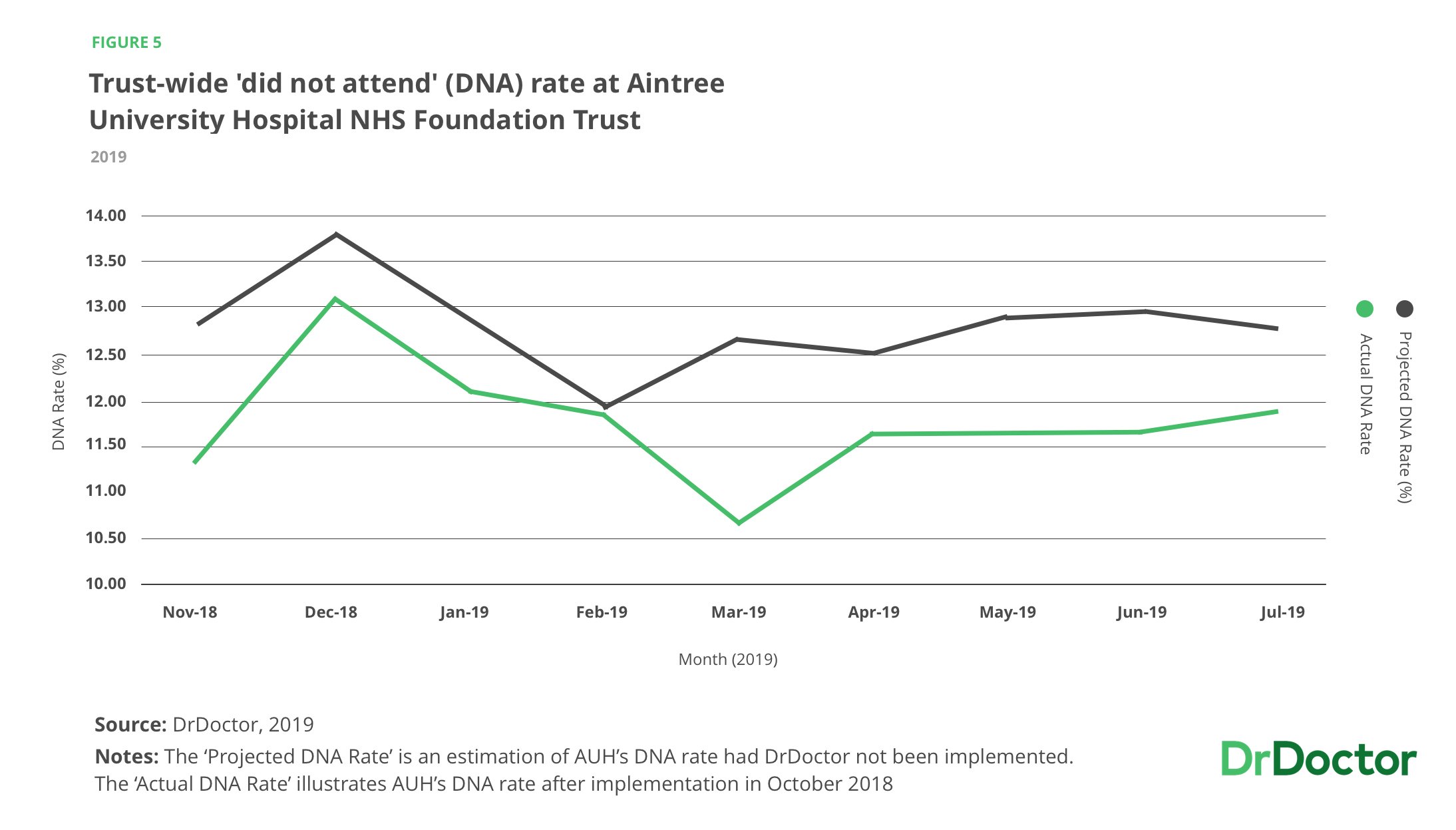 Figure 5. DNA Rates at Aintree: The outcome. DNA rate improvements were calculated by estimating a projected DNA rate and comparing it to the actual DNA rate for all the clinics where DrDoctor was enabled. The projection was calculated by averaging the previous two years' DNA rates month-by-month and factoring in the trend of Year on Year DNA rate increase by adding on the average increase Year on Year.
Next steps
AUH is currently mid-integration for DrDoctor's joint Digital Letters solution with Synertec, which will further contribute towards AUH's focus on cost reduction and improving patient experience.
Once AUH has completed the switch to their new PAS, Trackcare, DrDoctor will begin a new integration and implement Patient-led Booking solution, providing AUH with the ability to notify patients when it's time to book their appointment should they be on a waiting list. This is forecasted to save AUH £1.6million annually.
"Aintree are a first-class example of how to quickly and effectively solve a complex problem using common sense technology. Looking forward to continuing our work together!"

Piri Amalan , Implementation Lead, DrDoctor