Missed appointments represent a significant burden to healthcare budgets. The average 'did not attend' (DNA) rate across the NHS is 6.7%; however, significant variation can be observed. In 2015, Guy's and St Thomas' NHS Foundation Trust observed a DNA rate of 13.5% and partnered with Dr Doctor to reduce this by implementing their innovative outpatient scheduling and booking platform. The overall rate has reduced by 17.2%; Guy's and St Thomas' NHS Foundation Trust has estimated a £2.6 million financial benefit in the first year and 91% of patients would recommend the service. This case study describes the onboarding process for DrDoctor's platform across Guy's and St Thomas' NHS Foundation Trust, the benefits delivered and next steps for the partnership.
Introduction
The vase majority of patient interactions with secondary care are through outpatient clinics. In fact, 85% of all UK hospital- based activity (excluding A&E) is accounted for by outpatients appointments. One in five potential appointments in England, and one in four appointments in Wales, are cancelled or reported as DNA.
In March 2018, 87% of patients had a treatment waiting time of less than 18 weeks and currently 4 million patients are on a waiting list. Performance against waiting list targets has worsened over the last couple of years, and the 92% target was last met in February 2016.
A recent OFCOM survey showed that smartphone ownership in those aged over 60 years was at 72%, and over 90% for the remainder of the population.
In order to reduce the effects of DNA rates and better manage their waiting lists, Guy's and St Thomas' adopted DrDoctor's Patient-led Booking solution in 2018, trialling in Dental. This solution sat on top of DrDoctor's Appointment Management solution, which was rolled out Trust-wide in 2016.
Before rolling out Patient-led Booking, Guy's and St Thomas' DNA rate for Dental Medicine was at a high baseline of 12.3%. Clearly, there was an opportunity to improve this significantly.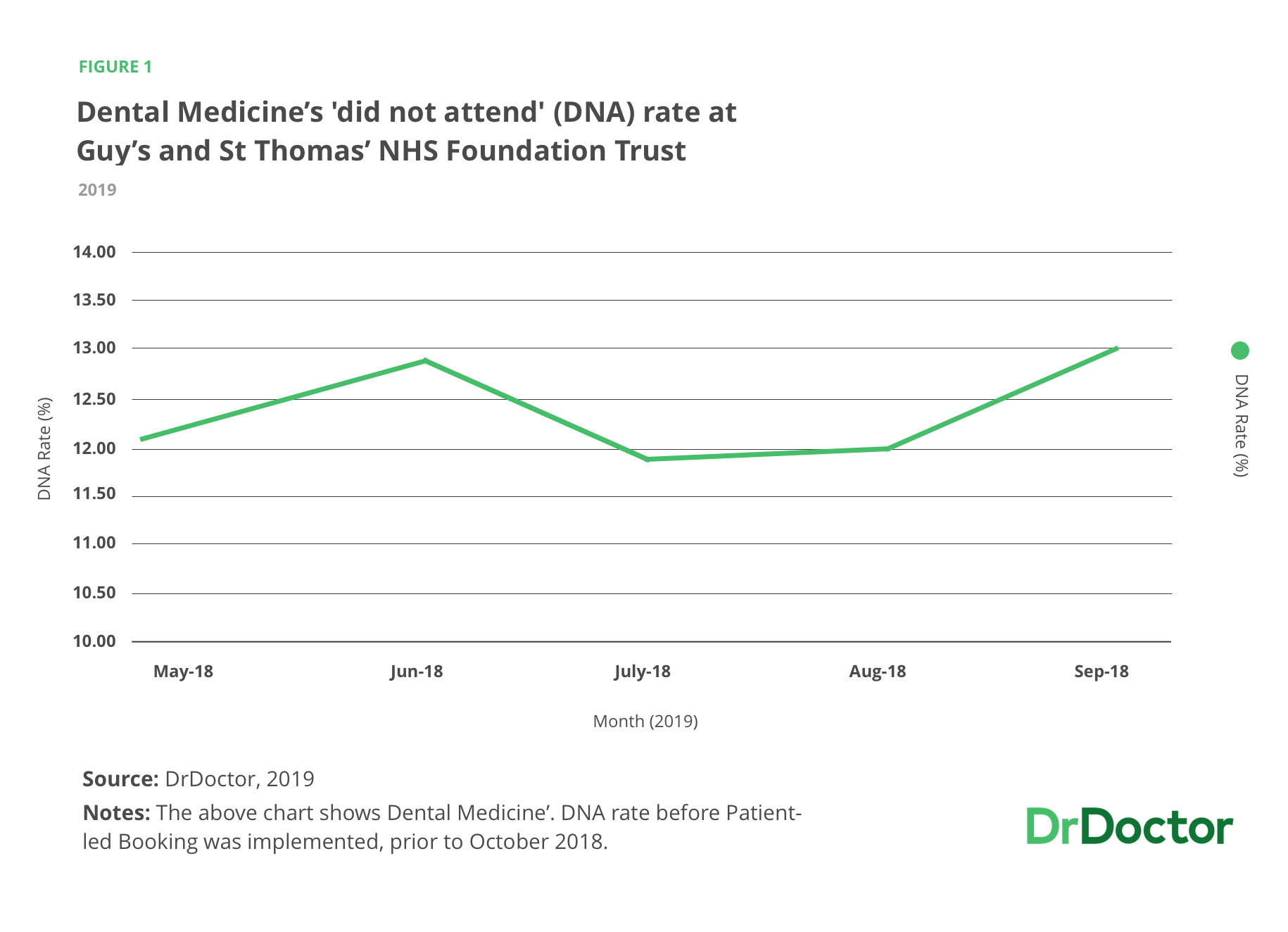 Figure 1. DNA Rates at Guy's and St Thomas': The current situation. In the five months before implementation, the DNA rate for the Dental Medicine was 12.3%.
Solution
Patient-led Booking was implemented to improve efficiency and patient experience. Specifically, Guy's and St Thomas' wanted to:
Improve waiting list management
Reduce DNA rates
Improve admin efficiency to support outpatient clinics
Improve patient experience
Implementation
Through a phased Outpatient Improvement Project, Guy's and St Thomas' were committed to delivering against their Strategic Objectives of sustainable healthcare to meet people's needs, outstanding care and achieving the best possible patient outcomes.
As part of the project scoping prior to implementation, DrDoctor worked with Guy's and St Thomas' to run a stakeholder mapping exercise to assess suitable specialties for the pilot, as shown in Figure 3 overleaf. The Dental Directorate was chosen as the most appropriate specialty to run the pilot in, due to its large follow-up waiting list and willingness to use technology to drive improvement.
Specifically, implementation involved a waiting list integration, the re-assigning of waiting lists to clinics and ensuring service managers for the specialty were trained in using Patient-led Booking.
The project team within Dental Medicine were invested in using technology to manage waiting lists. This ensured for a smooth implementation, and a solid basis to roll out Patient-led Booking throughout Guy's and St Thomas'.
Notifying patients when it is time to book their appointment - partial booking - is a good step. But Patient-led Booking takes this to a whole new level. It's allowed us to reduce waiting lists and empower patients.

Donna Holder, Programme Manager - Digital Patient Journey, Guy's and St Thomas'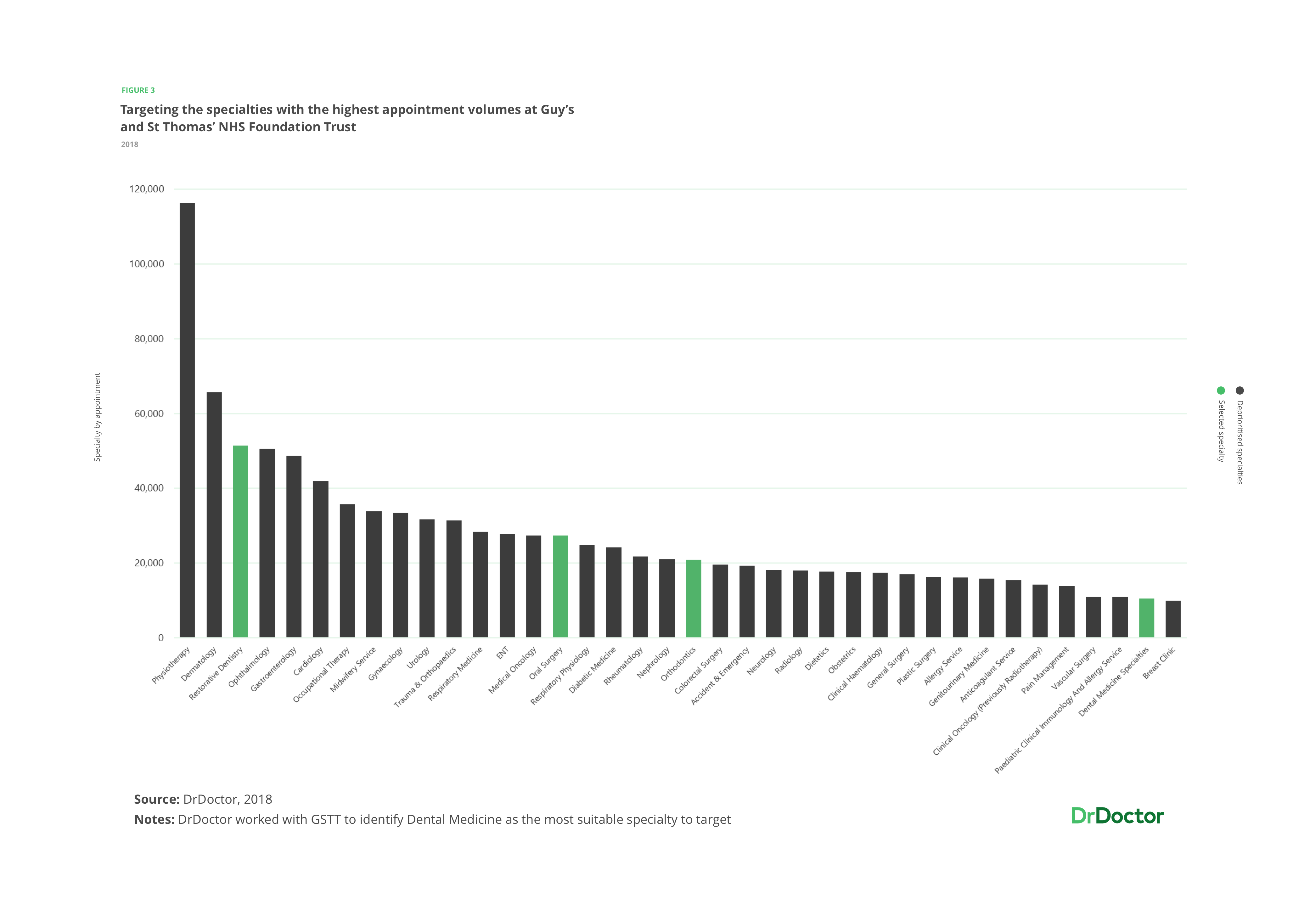 Figure 3. Targeting the specialties with the highest appointment volumes at Guy's and St Thomas'. Specialties within the Dental directorate are amongst the largest at GSTT, and Dental Medicine was identified as a suitable starting point due to its large waiting list and having the resource and management required to effectively implement Patient-led Booking.
Delivery
The Dental Directorate enabled Patient-led Booking for new appointments which needed to be booked 'As Soon As Possible' within 6 months of starting the project with DrDoctor. The ability to book appointments 'As Close As Possible' to the ideal appointment date enabled waitlists to be configured for follow-ups and this was rolled out in one month of being live.
From the implementation at Guy's and St Thomas', we learned that it is worth investing significant time on structuring and iterating wait list integrations. Once the integration is fully tested and the system is live, further roll-out can happen quickly.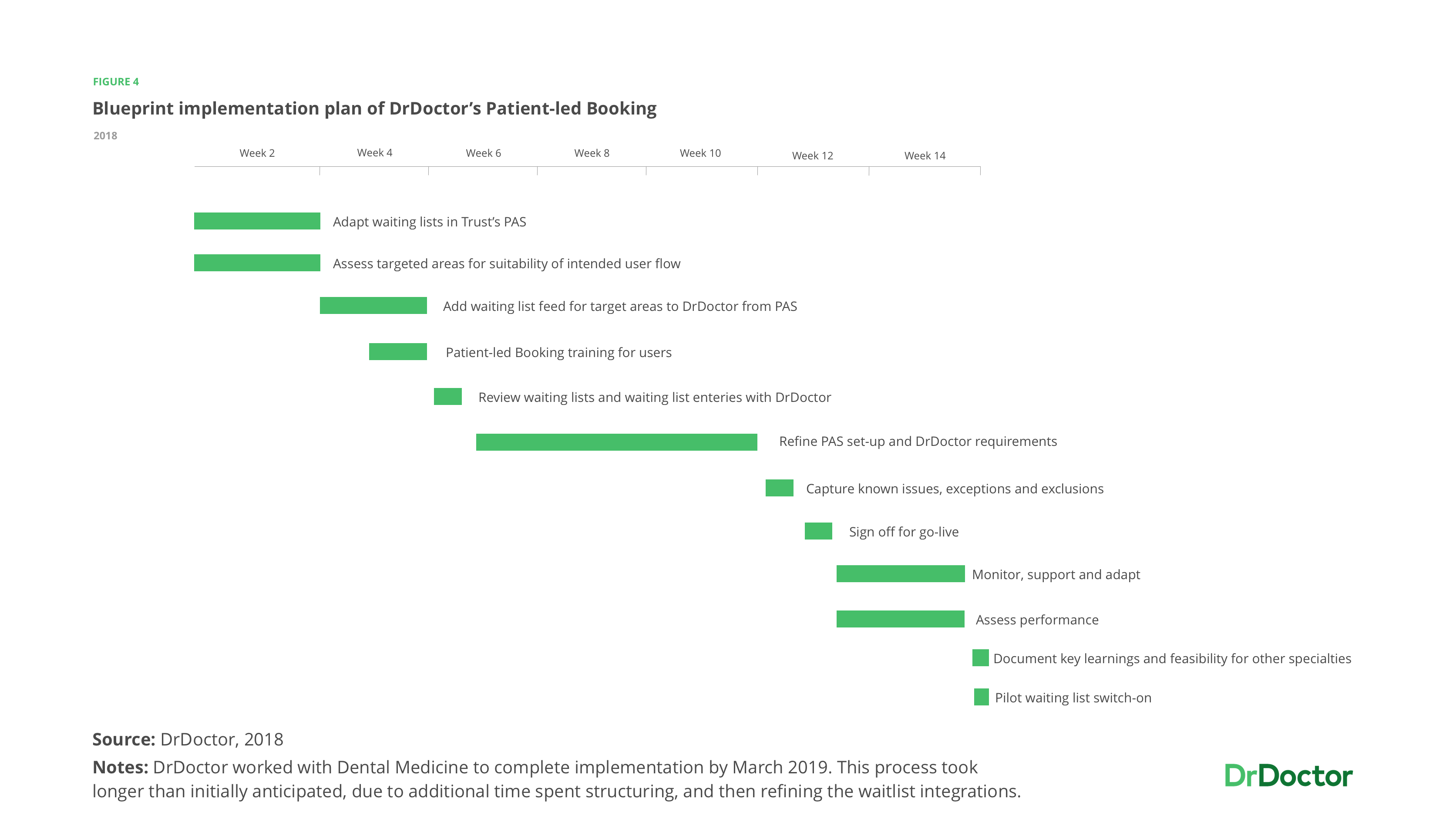 Figure 4. Implementation plan of DrDoctor's Patient-led Booking. DrDoctor's blueprint implementation plan for Patient-led Booking is based on our experience, and lessons learned from rolling out the product with Guy's and St' Thomas'.
Outcome
Waitlist integration with i.PM was successfully completed in the pre-project phase. All required staff within Dental Medicine were trained and onboarded to use Patient-led Booking. The DNA rate in Dental Medicine dropped from 12% to 9% (25% improvement) within one month, as shown in Figure 5.

Figure 5. DNA Rates at Guy's and St Thomas': after rolling out Patient-led Booking. After Guy's and St Thomas' went live with Patient-led Booking, the DNA rate in Dental Medicine dropped from 12.3% to 9%, marking a 25% improvement.
After one year of Patient-led Booking in place, Guy's and St Thomas' reduced Dental Medicine's followup waiting list from 1,500 to 150 patients, as shows in Figure 6. 30% of patients who were invited to self-book chose to do so. 10,200 new and follow-up patients in Dental have successfully 'self-booked' in the past 12 months, saving a total administrative time of 340 hours.

Figure 6. Waiting list reduction at Guy's and St Thomas': the outcome. Dental Medicine's waiting list for overdue follow-up appointments was reduced from 1,500 patients to 150 patients after turning on Patient-led Booking, during October 2018.
Next steps
Guy's and St Thomas' rolled out in Gastroenterology in July 2019, which will further contribute towards the Trust's focus on improving clinic utilisation and patient experience. Guy's and St Thomas' are planning to roll out Patient-led Booking across 30% of their clinics in 2020. Alongside this, the Trust are currently piloting DrDoctor's Follow-up Management solution in Dermatology and will continue to expand the use of our Digital Letters solution Trust-wide.
We'd be delighted to host other colleagues from across the NHS to see the benefits of DrDoctor. And we'd certainly encourage colleagues to come and see the system live, and to work out the benefits it could have for their patients and their organisation.

Dr. Ian Abbs, Chief Executive, Guy's and St Thomas'