The Royal Orthopaedic Hospital NHS Foundation Trust (ROH) started 2017 with a Did Not Attend (DNA) rate of 10.9%, and were using a non-interactive text messaging reminder system. Although below the national average, as a high performing specialist centre the Trust partnered with DrDoctor to improve this further by implementing Appointment Management.
Within nine weeks, the overall DNA rate was reduced to 7.1% (35% improvement) in the clinics where DrDoctor is turned on; the estimated 2019-2020 full year equivalent financial benefit for the Trust is over £100,000. This case study describes the onboarding process for DrDoctor's platform across ROH, the results delivered and the next steps for the partnership.
Introduction
The vast majority of patient interactions with secondary care are through outpatient clinics. In fact, 85% of all UK hospital-based activity (excluding A&E) is accounted for by outpatient appointments. One in five potential appointments in England, and one in four appointments in Wales, are cancelled or reported as DNA.
A recent OFCOM survey showed that smartphone ownership in those aged over 60 years was at 72%, and over 90% for the remainder of the population.
Before partnering with DrDoctor, ROH's DNA rate for the clinics that were identified as in-scope for DrDoctor were at a high baseline of 10.9%. Clearly, there was an opportunity to leverage mobile technology reduce this, while improving the quality of care for patients.
ROH partnered with DrDoctor in 2019 to implement Patient Platform and Appointment Management, with a view of rolling out Digital Letters and Patient-led Booking as a second phase. To make life for hospital users simple, and in line with recent national pushes to reduce login time, this was provisioned with Seamless Single Sign on Solution, utilising Active Directory Integration.
Solution
Appointment Management was implemented to improve efficiency and patient experience throughout the Trust. Specifically, ROH needed to:
Reduce DNA rates
Generate realisable financial savings
Improve administrative efficiencies
Digitise outpatient services
Implementation
In order to achieve benefits quickly, ROH rolled out Appointment Management in all selected clinics, which accounts for 70% of all outpatient clinics, in nine weeks. The Trust had a dedicated Programme Manager from DrDoctor on-site throughout this process - enabling the Trust to quickly start to see tangible improvements to DNA rates and patient satisfaction. Figure 2 details the delivered timeline for this implementation of Appointment Management at ROH.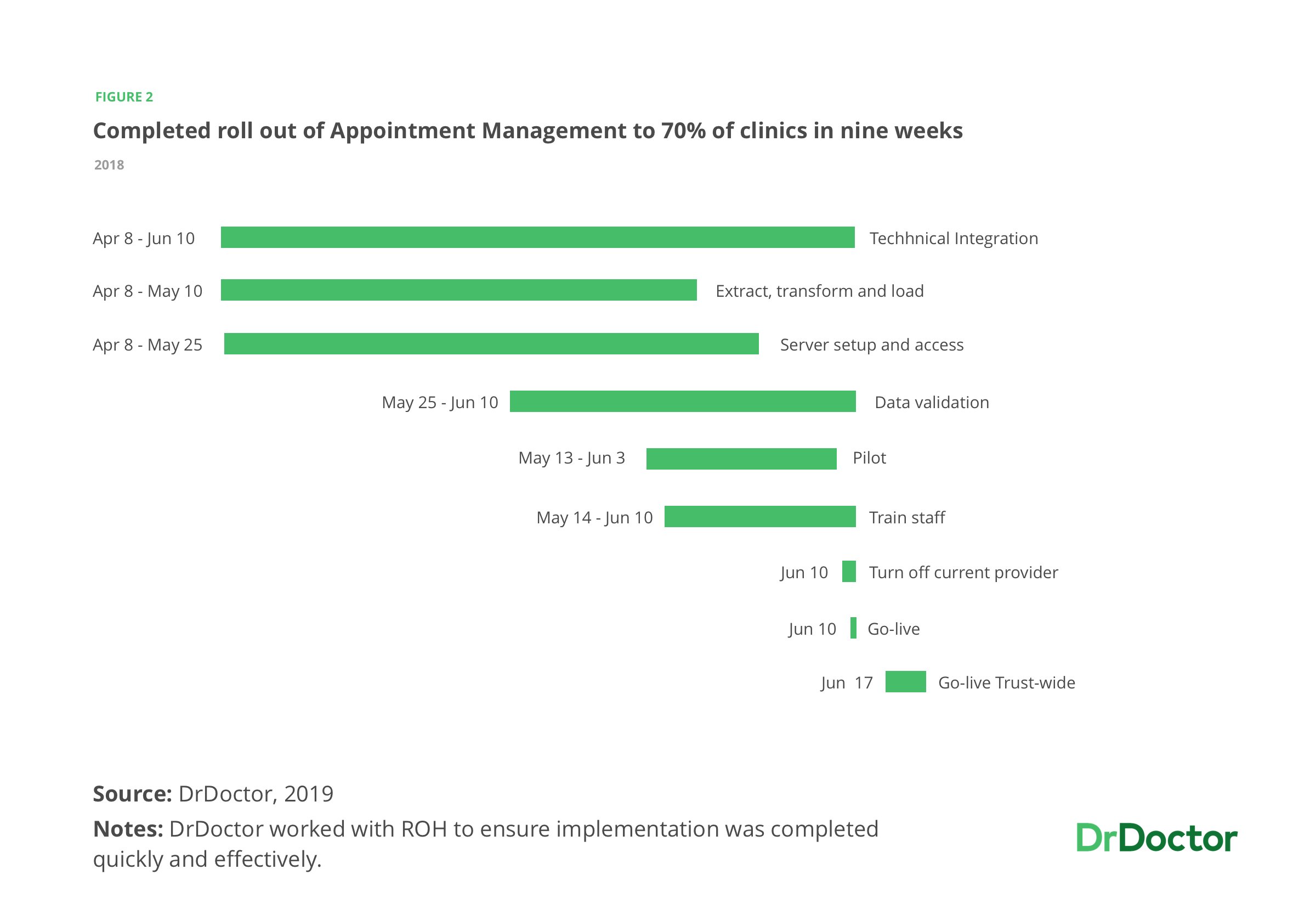 Figure 2. Completed implementation plan of DrDoctor's Scheduling at ROH. 70% of clinics were live within nine weeks, and the entire implementation process was completed within ten weeks. Success, an ongoing work stream to maximise the benefits of Appointment Management, will continue to run indefinitely.
"DrDoctor were engaged throughout the process and worked closely with the operational team to ensure that the system was set up quickly, and thorough testing was undertaken to make certain that there were no technical issues at "go live".



Matthew Payne, Clinical Services Manager, Senior Responsible Officer, The Royal Orthopaedic Hospital
Outcome