( read )
Ignore the stigma! Digital-first can help us all
Topics: Industry insights
When we discuss our technology and how we design digital systems that focus on the patient layer, we often get asked about the elderly. How digitising hospital communication can really help older people that need care but aren't as tech-savvy. We find that older people not using tech or owning smartphones is a fallacy. Often, society is guilty of not giving the elderly enough credit. Figures from Deloitte's mobile consumer survey 2018 show that smartphone penetration in the 55 – 75 category has grown to 77% in 2018 (from 40% in 2013).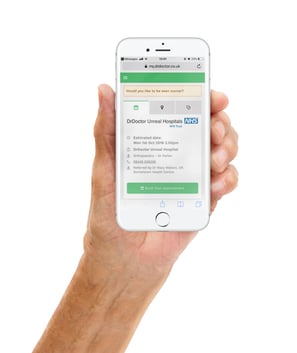 We know a lovely group of older people at Frimley Health who used skype to do coffee mornings (even before the pandemic). They had been friends for a long time but as they got older it became harder to leave the house for a variety of reasons. As a result, they started hosting coffee mornings via skype to ensure everyone could still take part. Generally, if a person has the chance to benefit from doing something differently, the chances are they are going to learn how to do it.
Another example of this is grandparents learning to use Facebook to see pictures of their grandchildren. Or learning to FaceTime their loved once due to the pandemic restrictions. It is only an assumption that elderly people cannot use technology. It's often not that they can't but that they don't see the need to and thus haven't learnt to. If you give people a clear benefit to using technology, learning becomes intuitive for all demographics.
As the world has changed, people have learnt to embrace technology and digital has become the default way of doing so many things (like shopping).
We design systems that work for everyone, and the benefit of digital transformation of hospital appointment management can also reach people indirectly.
Often the elderly, non-native English speakers, or people with learning difficulties have someone looking after them. This can be a friend, a family member or a carer.
We've seen a classic example of this in Guy's and St Thomas' hospital. A mum who does not speak English comes in for an operation accompanied by her English-speaking children that have scheduled her appointment for her. Your mum might not have a smart phone, but you do and therefore you can use that technology to help your mum manage her appointment. Using text messages or an online portal to help your mum is easier than having to ring up a hospital to gather the correct information involving her care.
"The experience of using the app was quite pleasant, even for an old codger like me; who is not technilitterate."
- Patient, Guy's and St Thomas'
An extension of this is the use of mobile technology to bridge the gap between providers and disenfranchised people. There is a lot of evidence that shows that improving digital access to services reduces health inequalities. For example, calling a hospital is a lot easier for a confident person who knows how to articulate what their needs are, than for someone who doesn't know what they need. In this way different people can receive a completely different quality of care even though their treatment comes from the same hospital.
Digital communication is very good at flattening out these differences and reaching people who are otherwise hard to access. For example, if you are homeless you don't have a fixed address, so receiving hospital letters is near impossible. However, studies have shown that the vast majority (94%) of homeless people own a mobile phone. An example of this is with the organisation Shelter, which provides temporary housing for the homeless, using text messages to tell people when a space becomes available.
Homeless hepatitis C patients that use intravenous drugs are a great example of this from a healthcare management point of view. Due to the nature of their condition it's very important they receive the right care but without a home address it's hard for hospitals to manage their treatment. Digital appointment management has therefore proven hugely successful in this situation. The feedback we often get from clinicians is that it's the hard to access groups of people that respond best to the service we are providing.
If patients are given the autonomy to manage their own care and the choice to communicate with hospitals in their preferred way, everyone will benefit. Digital communication and automating parts of the appointment booking process will make healthcare management easier for everyone. Whether that's the growing group of "techy" grandparents, the carers and family members looking after others, or the hard to access groups that letters and paper forms simply won't reach.
When the able-majority are booking appointments online or via SMS, it relieves the pressure on hospital administration staff so that they can either focus on helping those who need the extra help over the phone or ensuring that clinician to patient time is both valuable and focused.